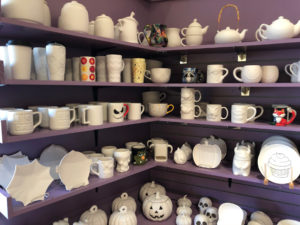 Choose from a wide selection of over 150 ceramic pieces.
Unfinished pieces range from $5 to $33.
Select colors from a paint chart.
Paint it using brushes, sponges, stamps, or stencils.
Paint time costs $7/hour (1 hour minimum). Includes unlimited use of paints, supplies, idea books, and instruction.
Leave it to be glazed and fired in our kiln.
Your masterpiece will be ready in one week.
Take it home and ENJOY.
Our inventory is always changing, so you never get bored at Doin' Dishes. However, if you fall in love with a particular piece we'll be happy to place a special order for you.
We also accept commissions. We are always ready to help you design your piece. Your project will be completed by one of our experienced and talented in-studio artists.
Adults are welcome to BYOB.

Don't forget to ask about our party packages.

Gift Certificates are available.